Our menu of food and drinks is refreshed seasonally, providing delightful surprises even for our returning guests.

We provide a lasting gastronomic experience, using carefully selected, premium quality ingredients.

We make our wide range of wine selection absolutely irresistible with seasonal offers.

We welcome everyone who seeks relaxation, with wine tastings and musical evenings in a laid-back atmosphere.
FIÓKA, THE CHARMING PLACE
Városmajor is waiting for you
We combine simplicity and modern variegation both in terms of our interior and the fine food we love prepare. Under the trees of Városmajor the atmosphere is not too posh neither uptight but youthful and elegant.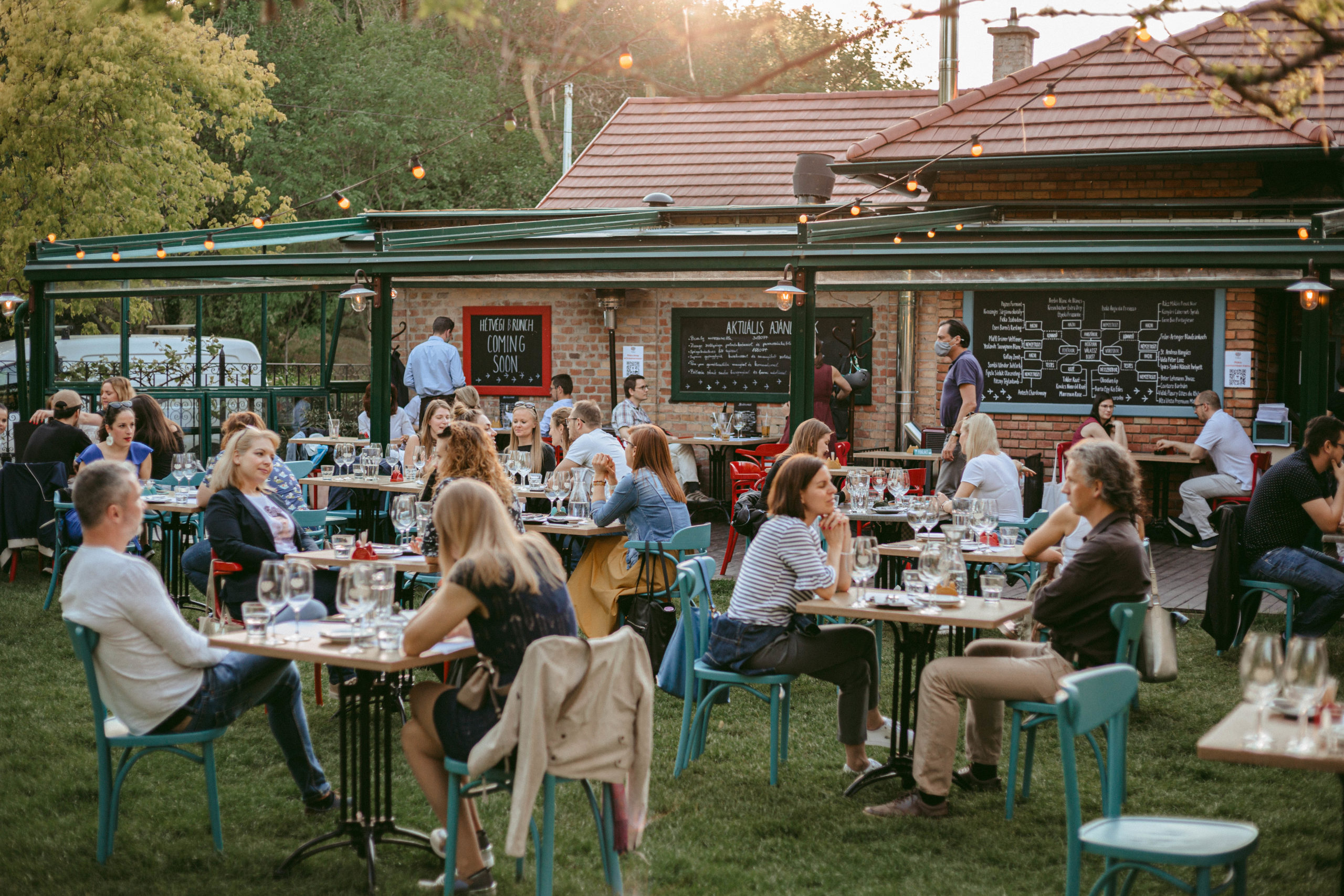 Small Plate and BIG TASTE
Menu
The small plate approach is a way to dine more cheaply, but also to sample a greater variety of dishes, without feeling overwhelmed with large portions of food. Since our small plates are designed to be shared, there's a wonderful communal aspect to the dining experience. What makes "small plates" appealing for our chefs is the ability to showcase the ultimate culinary creativity by fusing new and fresh combination of flavors into small, yet intense bite-size dishes.
Beef Consommé
1580 Ft

Sourdough bread, butter
990 Ft

Breaded pork tomahawk, cats curry sauce
3180 Ft

Braised brisket with mushroom ketchup and pearl onion

3980 Ft


(gluten-free)




Whitebait, aioli
2880 Ft

Marrowbone, horseradish, toast
2480 Ft

(Ask for lactose- and gluten-free)




Iceberg, avocado, smoked aubergine dressing, pumpkin seeds, pecorino

2880 Ft

(Gluten-free, vegetarian)

Pulled lamb shoulder with humus and pomegranate
4080 Ft

Grilled halloumi with black spice honey

2880 Ft

Grilled courgettes, green tahini and romesco sauces
2480 Ft

Beer battered cod with pea purée
3580 Ft

Pan-fried king prawns with padron peppers and chili oil

3980 Ft

(Gluten- and lactose-free)

Grilled tuna steak with guacamole
3980 Ft

Cheese Board
3480 Ft

Double cooked chips, spiced salt, homemade ketchup/spicy mayo
1780 Ft
Chocolate marquise with pistachio creme anglaise and caramelised banana
2580 Ft

Cottage cheese dumplings

2580 Ft

(Vegetarian)
Harmony and Adventure
Wine list
Each season we upgrade our selection of wine just as our menu with great care. You can take an adventure tasting the wine of both boutique wineries and well known Hungarian wineologists.
JOIN US
We are looking for new talent
Click on the Write to us! button to send us your CV!