Our menu of food and drinks is refreshed seasonally, providing delightful surprises even for our returning guests.

We provide a lasting gastronomic experience, using carefully selected, premium quality ingredients.

We make our wide range of wine selection absolutely irresistible with seasonal offers.

We welcome everyone who seeks relaxation, with wine tastings and musical evenings in a laid-back atmosphere.
FIÓKA, THE CHARMING PLACE
Városmajor is waiting for you
We combine simplicity and modern variegation both in terms of our interior and the fine food we love prepare. Under the trees of Városmajor the atmosphere is not too posh neither uptight but youthful and elegant.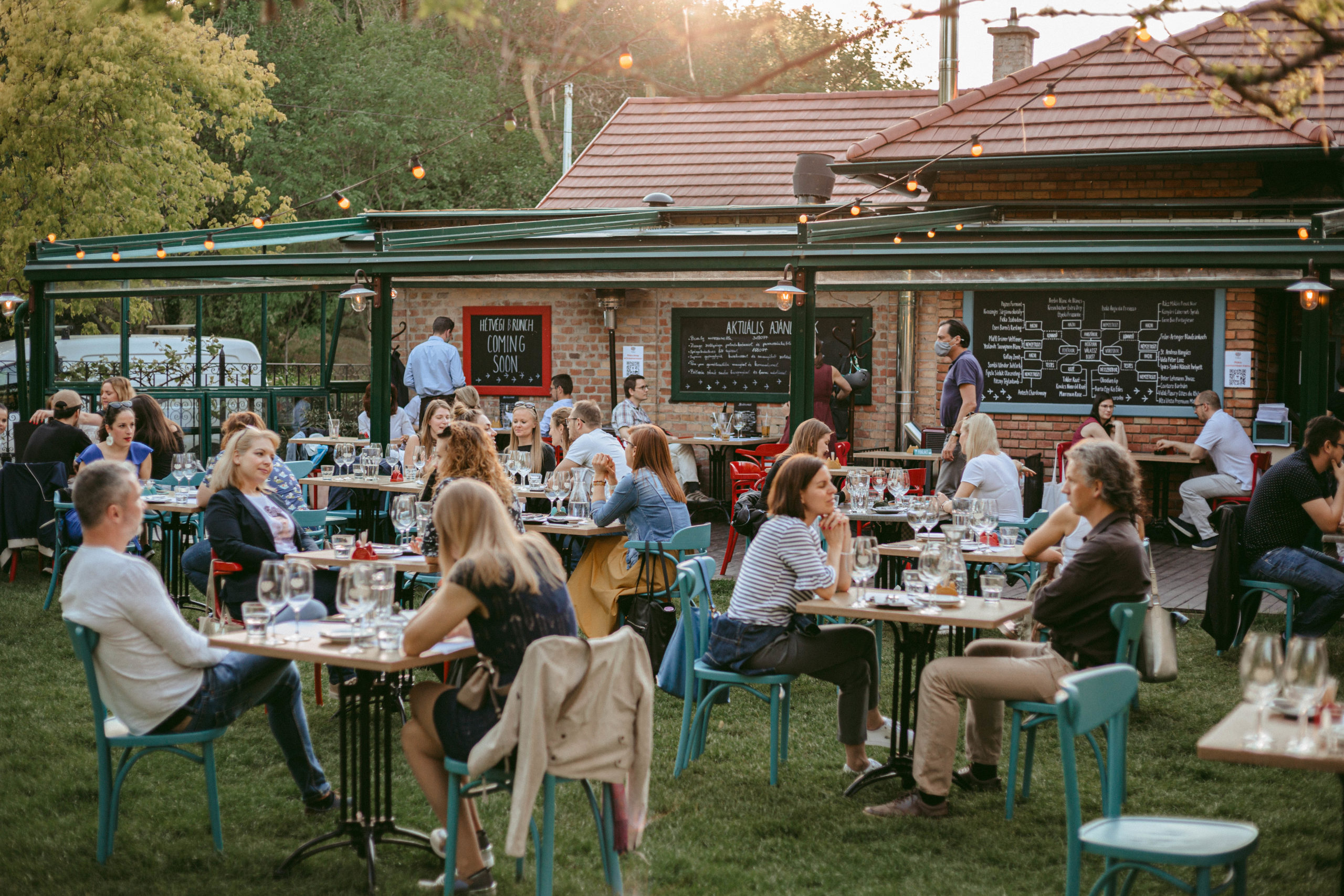 Character and Tradition
Menu
Combining our mostly liked character, the authentic Hungarian cuisine with modern, international taste, we create a loveable menu which will amaze you every single time. We find and select the various ingredients with great care, in order to present high quality dishes every time.
Beef Consommé
1400 Ft

Sourdough toast, butter
880 Ft

Padron peppers
2180 Ft

Brisket croquettes, cucumber kimchi
2880 Ft

Pintxo – olives, boquerones, borettane onions, house spiced nuts
1780 Ft

Aquadella, aioli
2880 Ft

Marrowbone, horseradish, toast
1880 Ft

Steak tartare, beetroot, rosemary, pecorino
3280 Ft

Cod, peas, romaine salad, curry oil
3180 Ft

Salmon gravlax, green apple and fennel salsa
2880 Ft

Panko chicken, sriracha and lime mayo
2380 Ft

Roasted pork belly, mushroom ketchup, mustardseed
2880 Ft

Charred aubergine, beluga lentil salad
2680 Ft

Roasted carrots, feta dip, duqqa
2850 Ft

Mixed salad, pickled onion, sumak 
2250 Ft

Baked cauliflower, "chili men" sauce, sesame seed  
2150 Ft

Grilled zucchini, buffalo mozzarella, mint, pistacchio  
3280 Ft

Red tuna steak, avocado cream  
3280 Ft

Double cooked chips, spiced salt   
1780 Ft
Cottage cheese balls 
2180 Ft

Chocolate mousse with brownie and cream 
2180 Ft

Cheese Board
3380 Ft
Harmony and Adventure
Wine list
Each season we upgrade our selection of wine just as our menu with great care. You can take an adventure tasting the wine of both boutique wineries and well known Hungarian wineologists.
JOIN US
We are looking for new talent
Click on the Write to us! button to send us your CV!